When red hair was officially declared the new hot trend this year I couldn't be happier! After all, red is my own favourite hair color, and while I've been dying it chestnut brown over the last half a year or so, time has come to go back to truly bright ginger red!
In the meantime, I, following the example of various online fashion mags that have been lately posting lots of celebrity redhead lists, decided to make my own top ten! Note, that I picked not the gals who dyed their hair just to follow the trend, but natural redheads, or at least those who look their best in red and wear it most of the time.
1. CHRISTINA HENDRICKS
It's almost surprising that such a beauty has been hidden from our eyes for so long - she was already 32 when a sharp-eyed casting director picked her for the leading part in "Mad Men" and turned her into a star almost overnight. A naturally buxom, curvy lady which stands out among the standard starved-looking celebrities is something Hollywood needed all along.
I believe her to be the pride of the modern redhead tribe. So gorgeous at 50!? I realize there probably is some plastic surgery involved but she still looks absolutely natural - something not many celebrities are able to pull off at her age.
I loved her in "Superbad," "Zombieland," "Easy A" and can't wait to see her newest projects. She's beautiful, talented, badass and natural ginger. I believe it's a winning combination!
4. EVAN RACHEL WOOD
I didn't think much of Evan Rachel when I first laid eyes on her - there was nothing much striking about her appearance. Then I saw her in "Wrestler" and "Whatever Works" - she did well both in drama and comedy. And then she appeared in "True Blood" playing vampire queen (the photo is a screenshot from her first episode in the show) - I was conquered!
5. LAUREN AMBROSE
In fact I mostly know Lauren by her role in the somewhat morbid TV-drama "Six Feet Under." But after watching five seasons of the show back to back, including its totally buzzkill finale, I came to quite admire this redhead beauty and talented actress.
6. DEBORAH ANN WOLL
That's another "True Blood" hottie for you - what can I do, they have several in there! The part of the innocent virgin-turned-vampiress was clearly the breakout for Deborah and she already has several big new projects coming up - let's she what else she's capable of...
Top popular model and designer muse, Coco switches between black and red from time to time, but, needless to say, I prefer the latter look. After all, if you look great in red - you will usually look duller in other colors. Any faithful redhead wood agree :)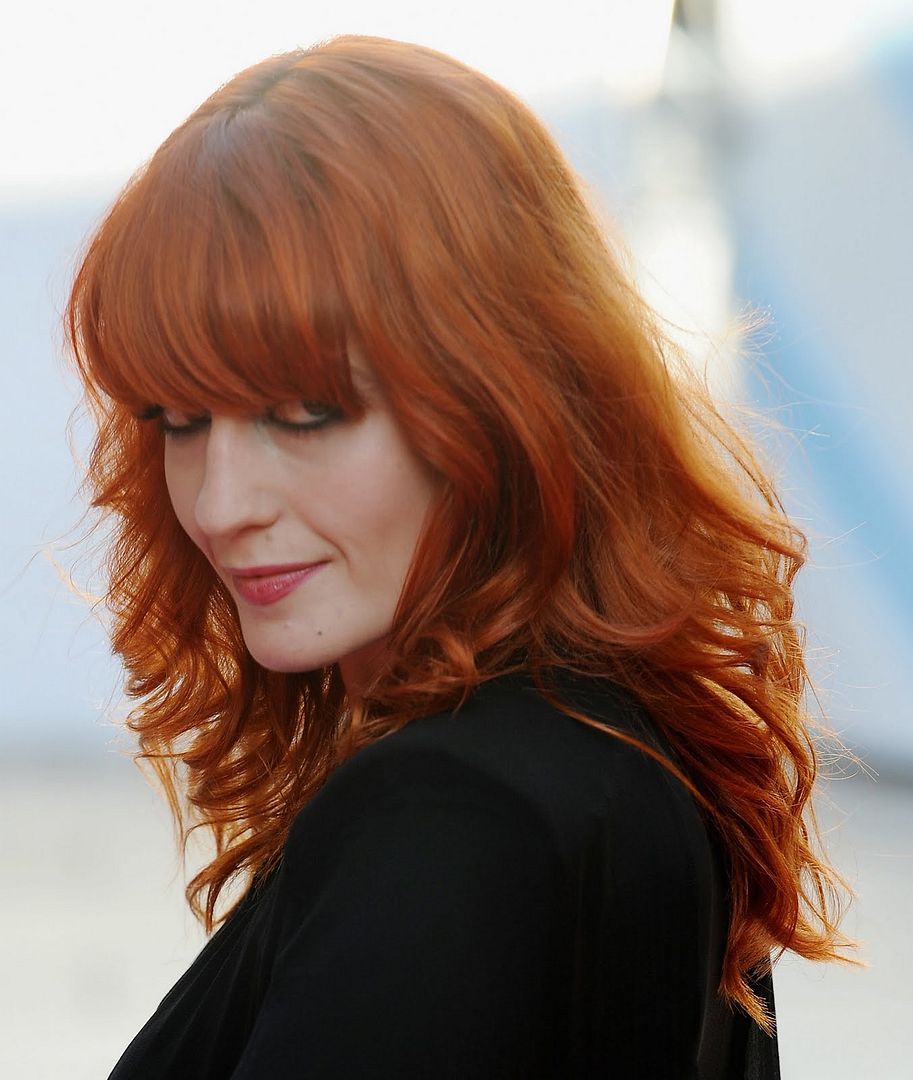 8. FLORENCE WELCH
I admire Florence's voice, her music and her hair. I don't always agree with her personal style, but no big deal - such hair color makes everything better!
It may seem a bit like "a blast from the past" but so what? I spent a part of my childhood watching "X-Files" like an addict - it was a part of my world. And even though Gillian's career doesn't seem to be going as well as she had hoped after the show ended, I will always remember Scully - the hot and tough FBI lady.
10. MARILYN MONROE
And, finally, a bit of classics. This screen icon has spent most of her life in the spotlight as a platinum blonde, continuously bleaching her ginger locks. It did help make her into a star, yet you can't escape your nature - even a little honey in her hair turns Marilyn into a blooming flower.